Product Description
Mineral licking brick

FACRICK is the product developed by Tangshan Finely Animal Care Co.,Ltd. With special formula and outstanding quality,it is widely uesed all around the world.
Mineral licking brick Main functions :
Improve fur color and pica
The ruminants by licking the bricks, firstly the fur color will change, the original rough fur will become smooth; for the licking soil pica phenomenon, there will be significant improvement.
Increase feed intake
Feed intake becomes regular, improve digestion and utilization, while feed intake increased; especially for ruminal acidic ruminants, by licking the brick show significant results.
Increase productivity
By regular full licking of the block, feed digestion and utilization rate improvement is realized.
Prevent urinary stones
When Urine is alkaline, the calcium and zinc in urine easy to deposit, precipitate into stones,so reduce the PH value of urine is very important. By free licking the brick, can increase the amount of drinking water,reduce urine alkaline and PH value thus prevent the urinary stones.
Reduce treatment costs
By improving the body's comprehensive immunity, to achieve the reduction of disease incidence.
Increase the concern of animal
By placing the mineral licking brick, can drive the concern of farmers for their ruminants, farmers can understand the physical condition of ruminants by observing their licking behavior. The cattle intelligence is equivalent to about 3-year-old child,they can understand the owners` care to them, So that they can give full play to their own production potential.
Improve economic benefits
The above results make the farm and feeding management level of farmers have been improved accordingly,thus bringing them real economic benefits.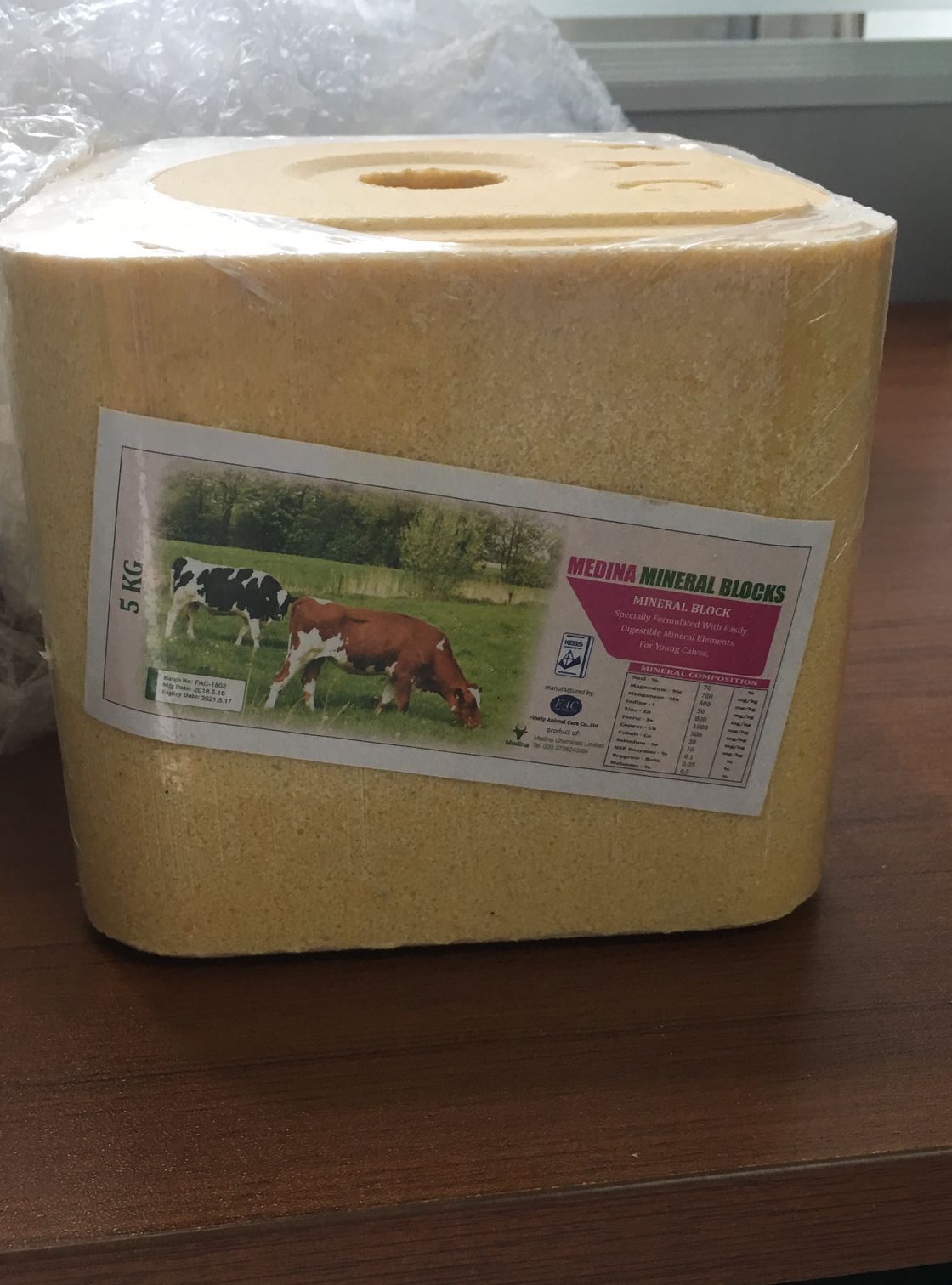 Mineral licking brick Characteristics
1.The minerals contained in the mineral licking brick can provide essencial nutrational factors for the ruminants.By licking the mineral blocks can:
solve the problem of dysplasia and retention of afterbirth caused by lacking selenium;solve the problem of anemia, bad reproductive performance, low production rate of milk caused by lacking of cobalt; solve the problem of low conception rate caused by lacking of copper;solve the problem of dysplasia, bad reproductive performance caused by lacking of magnesium, zinc and iodine,etc.
2.Special formula of high percentage and high activity NSP enzymes can help to degrade antinutration factors, and decrease feed viscosity, help digestion of animal feed and decrease the FCR.
3.The block contains PEPGROW-RU which is a key product developed by Tangshan Finely Animal Care specially for promoting animal growth and production.Meanwhile it can help animal to enhance the immunity reduce the cost of using drug.
4. Very convenient to use, with high density and very smooth surface and excellent palatability,can be used in all kinds of environment.